but
I have been able to plan my outfits without purchasing anything new! Here is
what I wore
.....all week so far!
Monday: green tank from Macy's, white Ann Taylor 3/4 sleeve v-neck, black pants, green jewelry from Gladys!


Tuesday: dark green v-neck from Forever21, black Old Navy cardi with ruffle details, dark wash bootcut jeans from AE.
Wednesday: Express 3/4 sleeve green shirt with ruffle detail, black pants.
Now, onto some super amazing giveaways. Seriously, there are TONS going on right now! Crossing my fingers for some Irish luck this week! ;)
Mrs. Thiessen at The
First Grade Sweet Life
is giving away a $20 gift certificate to Scrappin' Doodles! Mrs. Thiessen makes the
cutest
games and activities using this clipart and I would love to win the gift certificate and create some of my own games to share! Check out her blog...especially all of her FREE printables! My kids love them. :)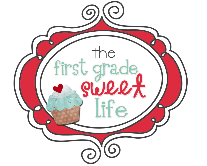 Rachelle and Natalie of
What the Teacher Wants
are giving away a $100 gift card to the container store! OMG, I've talked before about how I like everything "contained". I have to avoid that store so I don't drain my bank account. I can only begin to imagine all of the fun things I could buy for my classroom with that gift card!
Next, Diane and Kelly of
Made for 1st Grade
are giving away their Laura Numeroff Circle Story Unit! I don't know about you, but my kids
love
Laura Numeroff books! They are great to teach a variety of concepts. My favorite thing to do is use them when noticing patterns in stories or author's writing styles! This unit includes 135 pages of fun activities!
Steph at
Nursing in Red Stilettos
is giving away OPI nail polish!! Seriously, these are awesome giveaways! I love OPI polish. I'm still obsessed with gray so I'm currently wearing "Moon over Mumbai"...it's a nice cool, bright color that's getting me in the mood for warmer weather!
Mrs. Sauod at
Primari Grafitti
and Kacey at
Doodle Bugs Paper
are giving away one of Kacey's awesome portfolios! These things are so cute and I would love to win one to keep myself just a little more organized!
I know this is never-ending but I want to keep you all in the loop so you can hopefully win something! Cara a.k.a. Mrs. Carroll from
The First Grade Parade
and
Pearls, Handcuffs, and Happy Hour
is giving away some CSN gift cards! Visit hear teaching blog (
The First Grade Parade
) to enter to win a $25 CSN promotional code. Visit her domestic blog (
Pearls, Hand Cuffs, and Happy Hour
)to enter to win a $60 promotional code for CSN!
Miss Griffin of
Fantastic First
is working with Mrs. Claborn from
A Burst of First
to give us the chance to win something super fun: a $25 gift certificate to Scrappin' Doodles! I love their clipart!! This is the 2nd chance to win a Scrappin' Doodles gift certificate so I'm keeping my fingers super crossed!
One of my favorite crafty blogs is
Eighteen25
. Jennifer, Jamie, and Jodie are so creative and have great ideas for any budget! These ladies are hosting a giveaway
week
to celebrate their blog's birthday! There are so many fun things to win over there. Some of the items include a
Jo Totes Rose Bag
(I would the pewter color!),
11 pretty colored spools from The Twinery
, your very own
Silhouette SD
(!!!), and more! The celebration continues so make sure to follow their blog if you love crafting at all.
Good luck, everyone!