I'm linking up for a couple different blogs today. First, CMae over at
Happiness Is....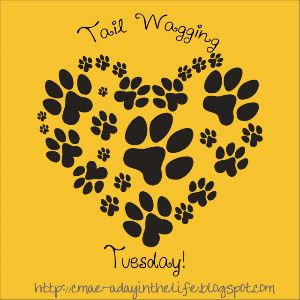 This week we are supposed to post a funny picture of our pet(s). I couldn't choose just one....enjoy!
Static City! Dixie is trying to take a nap under our bed...
This picture cracks me up!
Dixie shaking after a bath....fur ball! :)
Rawr.
Chip: "What'chu lookin' at?!"
Look what I can do, touch my nose with my tongue!
I can do it too, look! hehe
I'm also linking up again over at
Blog Hoppin'
for Teacher Talk Tuesday. The button below will take you over so you can join!
Today we're talking about advice for new teachers. I still consider myself a new teacher so I'll give the best advice I can! Sidebar: The other day I was chatting with a teacher that I hadn't met yet at one of my new schools. This is how the convo went....
Her: "So are you a new teacher?
Me: "No, I worked in this district last year, just switching schools this year!"
Her: "So you only worked last year?"
Me: "Well...in this district, yes. I also subbed before that."
Her: "You're a new teacher. You haven't even taught 3 years yet. Ugh."
Me: "............."
Haha, it was awkward!
Anyway, here are some tips from me to you for your first few years of teaching!
NETWORK! With education funding being so up in the air, you never know when your job is secure. I got my job for last year AND this year by networking and keeping in touch with people who have some pull in the district.
Make friends at work. Not only is it nice to have some new friends, but teacher friends can be great for collaborating, venting (when appropriate), sharing ideas, and tons of other things!
Overplan, but don't stress if you don't get to everything...that's how it is supposed to be! I always plan extra activities in case things go quicker than expected. While student teaching, I always got upset when I didn't get to everything I had planned, but then my cooperating teacher helped me to realize that it was better than running out of things to do!
Be flexible! There are so many things that change throughout the year and even each day! You have to be super flexible in this profession! :)
Become a lifelong learner. Nothing is worse than a teacher who is stuck in his/her ways! Make sure you commit yourself to staying on top of new methods and ideas! Take classes, read blogs, collaborate!
Looking forward to getting some advice of my own since I'm still a "new" teacher! :)