I'm so excited to link up with
CMae of Happiness Is....
for Tail Wagging Tuesday!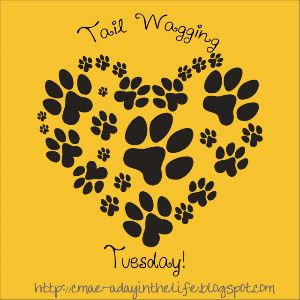 This week we're sharing any (old or new) favorite photos of our pets! ......Beware for picture overload..........and be prepared for a few not-so-great quality pictures!
2005 Pictures
:
Less than a year old <3
cuddly puppies :)
2006 Pictures
:
discovering their love for body pillows!
2007 Pictures
:
2008 Pictures
:
Dixie hiding under our cedar chest after de-stuffing a toy...guilty!
Chip has *always* loved pink stuff! lol


Cuddle Sack sleeping bags from my mom's co-worker!
2009 Pictures
:
before grooming car ride!
after grooming!
2010 Pictures
:
watching the birdies
(August) 2011 Pictures
:
Cuddly while Mommy reads
What happens when Mommy gets out of bed...they take over!
Dixie taking a "cat" nap on the top of the couch.
Spoiled much!? :)
those paws! <3
hiding under laundry!
tug of war with an old toy they found!