I've been trying to perfect my strawberry smoothie recipe for a while now. My smoothies always turn out too thick, too thin, filled with ice chunks, etc. They are never
just
right...until the other night! This is what my smoothie looked like [not my photo]:
It also tasted amazing! BUT for some reason I had to blend it forEVER and I felt like my blender was going to blow up. Is this normal? It can't be normal. Either way, I wanted to share my recipe since it took so long to find the perfect recipe. Keep in mind that I wanted a simple recipe with minimal ingredients and minimal fuss!
Emily's Straw-Nana Smoothie
14 small frozen strawberries (or 7 large)
1 banana
8 icecubes
2 small scoops of vanilla fro-yo
splash of lemonade
Next time I'm going to try fresh strawberries to see if they make any difference in the amount of time it takes to blend. I let the frozen strawberries thaw forever but they were still kinda hard....
In other news...there are some great giveaways going on right now!
Go Fourth with Mrs. Owens
is giving away a thirty one bag. Um, hello! I love 31 products. Seriously, I just discovered them this past year and I have a
laptop case
, a
tote bag
, a keychain, a
large utility tote
, and a
zip-around portfolio
....LOVE! Head on over to Mrs. Owens' blog for 3 chances to win her giveaway!
*Please note: I am not affiliated with the thirty-one consultant on these links. It was just the best site I could find with pictures of products!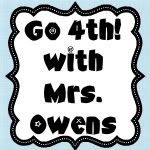 Also,
Miss Shasta Anne
is giving away a Clarisonic Pro! What an awesome giveaway! Head on over to her blog....she is giving everyone TONS of chances to win!