I'm linking up with Jen of
Runde's Room
to share some of my favorite books. If you know me, you know I love reading and I love to instill that upon my students!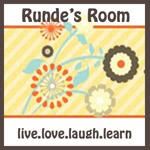 Childhood Favorites
– I had SO many favorites when I was young.
Before I could read on my own, I loved listening to my mom read
The Story About Ping
by Marjorie Flack.
I also used to love to listen to
I Love You Forever
by Robert Munsch, but my mom hated it because she cried EVERY time (now I feel the tears welling up, too)!
In my early reading years, I loved reading
Amelia Bedelia
books.
I also loved
Ramona
books by Beverly Cleary.
For some reason, I got into the scary books, too. (
Goosebumps
, anyone?)
I have always loved (and still do) James Marshall.
Classroom Favorites
– This really depends on what grade I'm teaching.
I love a lot of the
typical
popular authors: James Marshall, Dr. Seuss, Mo Willems, Marc Brown, Eric Carle, etc.
Reading to my Own Children Favorites
– I don't have any kiddos of my own (yet), but I can only imagine they will have a ridiculous library of books.
I'm sure I'll read the classics as well as fun, new stories.
Professional Favorites
– I have a lot of these.
Some of my favorite authors include Marie Clay, Fountas & Pinnell, Debbie Diller, etc.
If you can't tell yet, I'm a literacy freak!
Guilty-Pleasure Favorites
– I wouldn't consider all of these
guilty
pleasures, but they're definitely my personal favs.
My bookshelf at home is filled with James Patterson, Sophia Kinsella, Harlan Coben, etc.
I have some others mixed in there, but those are probably my three favorite authors
right now
. I know it's not a book, but People magazine is my TRUE guilty pleasure.....addicting! I might ask for a subscription for my upcoming birthday. :)