Thanks to CMae, I am coming out of hiding. Sorry I've been a little MIA lately, my district's levy failed last week and we've been going through some stressful times......cuts to staff, transfers, etc. Never fun. So far I haven't gotten any calls so I'm trying to keep my hopes up!
Now onto Tail Wagging Tuesday hosted by the beautiful CMae at
Live What You Love
! This week's topic is
TREATS
!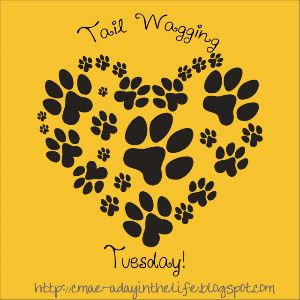 I'm sure this is the case for most of you, but in our house the "t-word" has to spelled out unless we want the pups to go NUTTY! We keep some of their treats in a metal treat canister and they can hear the sound of that being opened (or accidentally being bumped) from anywhere in our house! Here are some of their favs:
This is food but we use it as treats (shhh,don't tell!). They are huge kibbles meant to clean their teeth.
Since I didn't feature any pics of the pups in this week's post, here are a few freebies!
We got another food ball since Chip doesn't share well!
New hobby: birdwatching :)
P.S. Is anyone else having issues with the blogger dashboard?! None of my blogs I follow are showing up and it's driving me crazy! I want to blog-stalk and I can't :( :( :(