One of my fav bloggers, Cara at First Grade Parade, is having a blog party! Hopefully I can find some new teacher blogs to love and stalk :)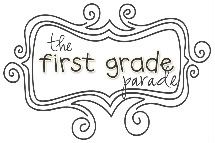 So to start, here's a little bit about myself!
I'm a
25
year old teacher, wife, sister, daughter, friend, etc. The list could go on! I've been married for a little over 2.5 years (our 3 year anniversary is coming up in May)!
I've been with the
hubby
since HS (although we didn't meet in school - he's 4 years older than moi)! He is my best friend and I love being married! We don't have any kids yet but that will come soon...enough! We do have two furbabies who are our "kids" for now. We have two 5 and 1/2 year old Yorkies named
Chip and Dixie
and they are
spoiled
rotten!
I've been teaching for less than a year since
this is my first year
! While in college, I taught preK for about 2 years and I also worked in the corporate world (SO not my style)! After graduating college, I substitute taught for a year in three local districts. I think it was a great experience but I'm glad I only had to do it for one year. I now work in the district I live in as a
Reading Specialist
. I work mainly with third graders but I am also currently tutoring some K/1 kiddos. (I love the primary kids!) Teaching is definitely my passion and
I love what I do
!
I'm lucky to have an awesome
sister
. She's 5 years younger than me and we get closer every year. She is in college for education also but she is going for art education. She's a great artist and I'm really
proud of her
! We are totally opposite but it works for us. P.S. Neither of us are adopted.......we just look like it!
I also have a
wonderful mother
. She is amazing and we talk every day. I don't know what I would do without her. We're very close and I wouldn't change it for the world! (She would hate me if she knew I was putting a picture of her "somewhere out on the internet"!!) :)
I love to
travel
as much as I can! Before I met my hubby, I hadn't seen the ocean (I was 17). I had only been to Chicago, Michigan, Indiana and Orlando (one time). After meeting the hubs, we've been lucky enough to do a ton of traveling together! We try to go to Hilton Head every year to visit his family, we are able to stay in a family condo down in Florida almost every year, we went to Hawaii for our honeymoon, went on a Caribbean cruise with some of my family, still visit Michigan to see my family every year....and so on! Here we are on our cruise and another pic from our honeymoon!
I. love. the. BEACH
! (and warm, sunny weather.) We're planning on a trip to Florida for Spring Break (can't wait)!!
Being from Ohio (born, raised and still live here), I am a huge
Ohio State fan
! Go Bucks! I love Buckeye football and basketball (#1)! Here is a pic of me with some of my best friends from this past football season.
Now that you know my life story...........time for the Q&A!
Q: What would you be doing if you weren't a teacher?
A: That's hard because I've always wanted to teach. I guess I would probably be a stay at home mom and make a ton of crafts and brush up on my photography!
Q: What are your hobbies?
A: Learning to cook/bake, birdwatching (nerdy, I know!), READING, crafting, taking pictures (I'm NOT a great photographer by any means but I'm learning).....
Q: When you were little, what did you want to be when you grew up?
A: I have always wanted to be a teacher! My mom has a home movie of me at my kindergarten graduation walking up to get my "diploma" from Miss Crispin and stating
"I want to be a teachol!"
(no worries, my speech has improved!)
Q: What are your guilty pleasures?
A: Oh dear. Reality TV (Jersey Shore, Real Housewives, Teen Mom), HGTV, Bravo, Food Network. I live off my DVR! I also love cheese (anything is better with some)! I can't live without a Coke Zero or a coffee :)
Q: What is your biggest fear?!
A: Spiders. Gross.
Q: When you're on vacation, where do you like to go?
A: Somewhere tropical! I love the warm weather, palm trees, sun on my face.......mmmmm, can't wait for Spring Break!
Q: What's the best advice you've ever received?
A: "Never give up on something you can't go a day without thinking about." It's so easy to give up on things but things take work! It took me 6 years to get through college (two colleges) and I wanted to give up so many times. I'm so glad I didn't because now I'm living my dream as a teacher! Such a rewarding career :)
Q: What do you value most in others?
A: Loyalty, honesty, trustworthy......
Q: If you could choose one of your personality traits to pass down to your kids, what would it be?
A: My sense of humor! I inherited it from my momma and can't wait to pass it down :)
Q: If you could have lunch with anyone in the world….living or dead…who would it be?
A: My Grandma Cathy. :)
Now tell us one random thing about yourself:
My classroom is probably the size of your walk-in-closet (or bathroom) but I love it because it's mine!