I know I've been a bad blogger. This week report cards were due AND I had conferences at TWO schools AND tomorrow morning will be my 2nd visit to the doctor in 4 days. Seriously, I feel like I have good excuses.
Anyway, I decided to link up today......because I feel like saying, "So what!"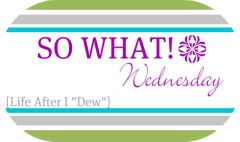 This week I'm saying So What if....
I have been counting down the days until Thanksgiving break for weeks. I need a break!
I have a big secret that I've been holding in and I still haven't decided when I'll tell my blog friends.
I did laundry a week ago and it's still on the drying rack in my laundry room.
I get stressed out when my DVR is full, but still can't find time to watch any of my shows.
I was relieved when a parent was a no-show for a conference last night.
I can't wait until summer.
What are you saying So What to this week? Head over to
Shannon's blog
by clicking the button above and link up!