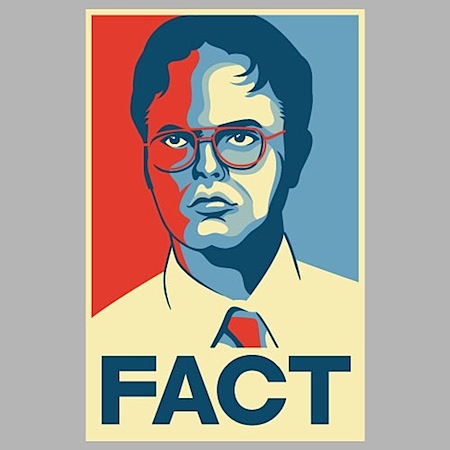 Anyone else love The Office as much as I do?! I saw this post over on Allie's blog, Table for MORE and wanted to join in!

Fact...
I am addicted to [what some may consider trashy] reality TV (Teen Mom, Real World, Real Housewives, etc.) I am addicted to what some may call not-so-trashy reality TV (Top Chef, Project Runway, etc.)
I have not updated the music on my ipod for approximately 2 years. I'm too lazy to figure out what songs I want to download and sync up!
I eat cereal dry. I hate milk so cereal must be dry. The only cereal I'll eat with milk is Rice Krispies and I only use chocolate milk for that! (Go try it now, you'll be addicted.)
I am addicted to lip gloss/balm. I probably have 8 in my purse, quite a few in my work desk drawers, more in my car, some on my nightstand, some at my vanity, etc. It's everywhere and I love it. My current favs: old school Carmex, Nivea, and e.l.f. hypershine lip gloss.
Going to Target and just walking around is like therapy to me. It makes me happy, even if I don't buy anything.
I avoid conflict at all costs. I love watching drama if I'm not involved but HATE being involved in any sort of argument or disagreement!
I don't like most breakfast foods. I enjoy a nice belgian waffle and also like [dry] cereal, but otherwise, count me out!
I'm addicted to smoothies. I might need one right this moment.
I do not wear khakis. Maybe this is because while in HS, I had two jobs where I had to wear khakis every day. For some reason, I hate them now. I wear black pants, gray pants, jeans, or comfy pants at home!
My favorite socks are knee socks. I get cold very easily and love having tall socks. Please note: these socks are never plain, they are usually crazy colors and patterns. :)